TOASTIEWALA
–
At toastiewala we make artisan cheese toasties fused with Indian flavours and a big dose of love.
We buy locally sourced cheese and bread from the best of British producers and our special cheese blend is paired with our hand-crafted pesto and relish varieties, inspired by the Maharashtrian region of India.
The final result is a delicious fusion of our signature British cheese blend (which we melt to perfection) on rustic sourdough bread, paired with our very own small batch condiments, prepared using family recipes that have passed through several generations.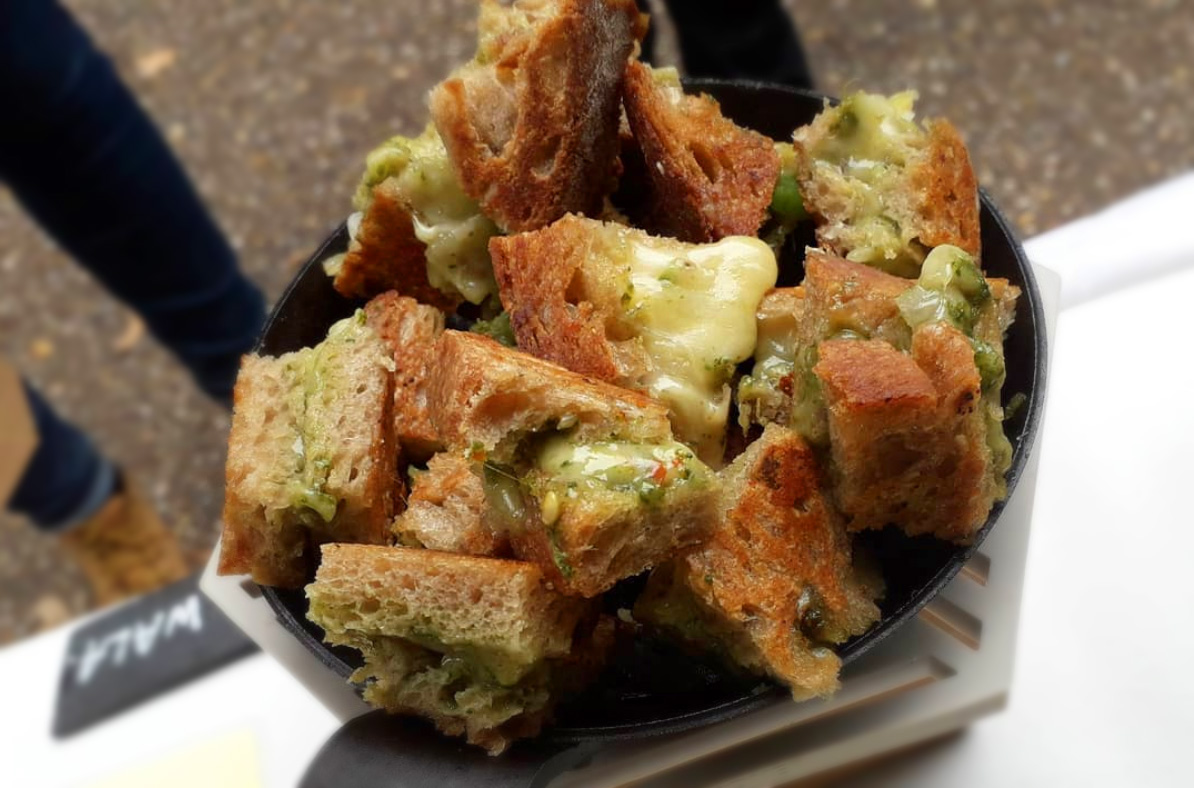 SIGNATURE TOASTIES
The Collection
We never put anything artificial in our food. Simply fresh and delicious food, made with love.
Our signature grilled cheese toasties come in three deliciously distinct varieties and condiment pairings:
CLASSIC WALA
A classic Mumbai toastie paired with green chilli coriander pesto
GOAN FARMHOUSE
A truly moreish toastie pepped with red chilli and garlic pesto
MUMBAI PLOUGHMAN
A melt in the mouth toastie with a luxurious fruity mango and date relish
ANDA PAO [BUN]
A showstopper brunch of ghee-fried Somerset farm egg and melted cheese on a brioche bun, with a choice of our hand made pesto and relish.
ANDA PAO [TOASTIE]
Add a delicious fried farm egg to any of our signature sourdough toasties for a filling variation of this famous Mumbai 'egg bread' classic
HOW IT ALL BEGAN…
I'm Farah, the founder of toastiewala. Growing up in a British Indian household, I inherited a natural love of fresh, flavoursome food from an early age, cultivating an appreciation for both Indian cuisine and great British and European staples.
At home, we would spice up these foods with hand-made condiments made by my mother using recipes passed down from mother to daughter for several generations. Back in the day our grandmothers (and theirs before them) would spread a green or red chilli pesto onto roti (Indian flatbread) as a quick snack.
–
FAMILY RECIPE
PASSED DOWN FOR GENERATIONS
At toastiewala, our pesto and relish varieties are made using our time served family recipes, and inspired by our ancestral roots in the beautiful Konkan Coast, a picturesque coastline that stretches from the city of Mumbai, in Maharashtra to the southern city of Margao, in South Goa.
In modern times, the toastie has gained a cult following on the streets of Mumbai. On my visits to Mumbai, I would see street food vendors cooking up amazing cheese toasties or 'sandwizza' as they are often known, for hungry crowds.
Toastiewala offers a variation on a British classic that we all know and love – the delectable cheese toastie. We hope you enjoy our delicious toasties as much as we enjoy preparing them.
WHERE TO FIND US
Toastiewala is a small, newly launched business that's growing fast!
We are based at the following Sunday markets
You can also find our delicious toasties at The Crisis Shop in Stroud Green Rd, Finsbury Park.
Please check our social media pages for weekly updates on where we're trading.